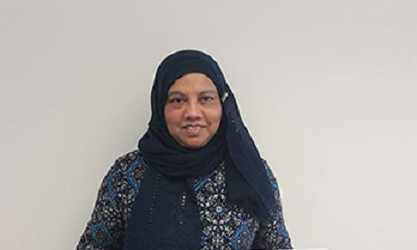 As a foster carer for over 20 years, Hajra tells us why she still does it and encourages others to take the step as well.
"It's very rewarding; children no matter what colour, creed or sex, they need a stable environment, a lot of patience and some boundaries, routine and a safe place to call home, where they can be themselves."
"It may seem daunting, but it's not. Once you start it just gets easier and easier; the appointments and things it feels natural and normal."
Having fostered for so long, she often gets asked how many children have been placed in her care "I reckon over 200, but I'm not 100% sure, because when I first started I use to do emergency placements as well, so a lot of few days, few weeks, few months. Now I just do short term."
Hajra initially decided to become a foster carer as she believed her own experiences as a teen would help her to emphasis and understand children coming into care. 20 plus years later and she explains "as well as giving, I get a lot in return; I find that fostering has changed me as a person for the better. I get immense pride looking the children placed with me and I feel like they are my own."
"I started fostering when my children were quite young so they don't know any different. When foster children were placed with me, they were just seen as part of the family and now that they are grown, my children are a part of my support network." However she also considers herself lucky to have had the support of her husband, who is very active role in their roles as foster carers.
When asked what her greatest achievement as a foster carer was, Hajra knew the answer straight away. "My greatest achievement is seeing how the children I looked after have moved on; having turned their lives around and become independent, thoughtful, stable, young people; young women and young men. I feel really proud by what they've achieved that and knowing I've had some hand in helping them do that and I tell them so as well."
Like every foster carer, Hajra confirms that support is a very important part of fostering, the support you get from your friends and family as well as the agency you foster for. "Having a supervising social worker at the end of a phone call and having regular supervision so I know that if ever I need any help I can just pick up the phone or email, this is invaluable. Also being a member of the Hackney's Foster Carers Council is like an extended family and other foster carers know they can rely on us as well so they will ring us with any questions if they need a person to talk to and we are there to support them. We go on trips, holidays, coffee mornings, so when we meet up it just feels like an extended family."
Could you be a foster carer like Hajra? Enquire below to find out more.
Please complete the form below and click the Send button to get in touch with us.
Thank you for submitting the contact form.